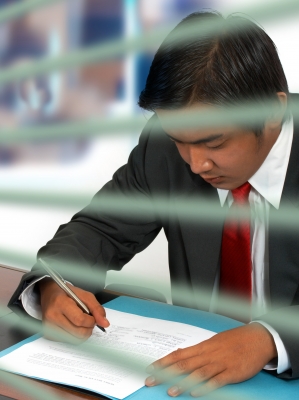 There are a number of internship opportunities in insurance. Find intern jobs with an insurance company or agency in areas including marketing, claims and more.
Internship Opportunities Available Now
Internship opportunities for the summer are available now at many insurance companies. A number of factors leave many insurance companies short-handed during the summer months. Tornados and hurricanes will sweep through many towns during the summer months, and a search for internship opportunities for insurance claims jobs will net a number of available positions.
In addition, seasonal products offered by many insurance companies including watercraft, personal watercraft and motorcycle will increase the numbers of phone calls into call centers at insurance companies and agencies, providing a need for additional staff. Internship opportunities also arise as full-time employees take off for their summer vacations, leaving paperwork piled high on their desks.
Find Intern Jobs to Love at Insurance Company
Find intern jobs to love at an insurance company or agency. At an insurance company, paid intern jobs are the norm, especially during the summer months. Insurance marketing jobs can give undergrads an opportunity to use their writing and design skills. Students interested in a career in law might be interested in exploring insurance claims jobs that provide ample opportunity to use investigation and research skills. Finding intern jobs at insurance agencies often means a widespread use of skills, working with different areas as the need arises.
Typical Responsibilities of Paid Intern Jobs
The responsibilities of paid intern jobs are greater because a salary is being earned. It's not uncommon to have a set schedule so any issues with time off, including doctors' appointments and vacations, need to be provided upfront to the hiring manager. Paid intern jobs at insurance companies often include providing services to a variety of company departments. It's a good idea to be open to jumping around from department to department, filling insurance marketing jobs or insurance claims jobs as needed. Being on time, flexible and responsible are key to getting invited back for a paid intern job in the future.
Pad a Resume with Internship Opportunities
Internship opportunities can help pad a resume. A college degree is a pivotal stepping stone into any career. Search internship jobs to find work experiences that will round out a resume, which otherwise might only consist of part-time work not related to a degree. Hiring managers want to see more from prospective employees. It's important to search internships and find jobs that support future career goals.
The copyright of the article Insurance Internship Opportunities is owned by Lisa Nichols. Permission to republish Insurance Internship Opportunities in print or online must be granted by the author in writing.
Image courtesy of FreeDigitalPhotos.net