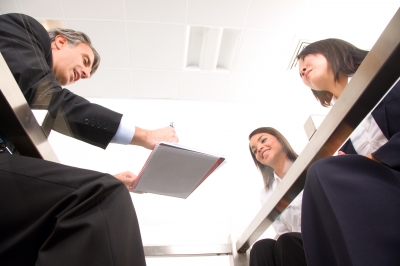 IT support or IT management professionals should consider a career in the insurance industry. Insurance companies and insurance agencies have jobs available for Web developers, network systems, technology management and other IT support specialists. There's never been a better time to find an IT support or management job in insurance.
Types of IT Support and Technology Management Jobs in the Insurance Industry
IT management jobs for programmers in insurance companies allow "people" managers to combine their technology skills with mentoring and working with direct reports. Managers also work with the clients outside of the company, including agents and vendors. The jobs for IT programmers with technology management skills are some the best tech careers in insurance, allowing managers to oversee employees' efforts while providing valuable insight and input into new projects.

Web developers also have exciting growth opportunities in the insurance industry. These information technology careers often involve updating the "same old, same old" websites that insurance companies and agencies have been using for far too many years. In addition to updating websites, insurance companies also have jobs for Web developers who can improve search engine results.

Project Office people can find their niche with a job in the insurance industry. The many telecom employees, IT associates, claims, sales and marketing team members in an insurance company all rely on Project Office to keep their projects on time, within budget and within scope. Working in a Project Office job for an insurance company can be stressful but exciting, as insurance companies drive new technological changes.

Network system testing is an important part of all IT projects and a great stepping stone into an IT support specialist job. Testers work overtime to ensure that customer-facing and employee data processing systems work as planned. With insurance rates often changing and new products always in the works, network system testing support specialist jobs remains a popular information technology career in the insurance industry.

It's an exciting time to take an IT support or management job in insurance. Many companies are moving from old "green screen" systems to Web-based applications. That can mean many headaches, but many triumphs too. In addition, bringing the new systems to the many different departments that work in an insurance company and to clients and employees that work in the field also presents a number of exciting challenges for people in IT management, support and tech jobs.
IT Tech Job Salary Expectations
The money to be made in the best IT tech jobs in insurance varies depending upon skill level, education and years of experience. Salaries for IT management and support jobs with insurance companies and agencies are fairly comparable to industry standards for information technology careers. The benefits are usually great, and in addition to a health insurance plan, there are often many other corporate perks like a gym, free parking and productivity bonuses.
The copyright of the article Insurance Career Paths: IT Jobs in Insurance is owned by Lisa Nichols. Permission to republish Insurance Career Paths: IT Jobs in print or online must be granted by the author in writing.
Image courtesy of FreeDigitalPhotos.net